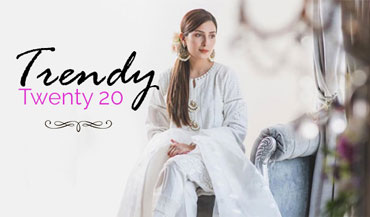 2019 has been a flexible year for the patterns and strategies of fashion. We've had a big 80s revival involving platedl jeans, bright neon shades and winged eyeliner (which by the way never goes out of fashion). Nostalgia struck us hard from the early 2000s when, this past year, hair accessories such as diamond clips and iridescent bags began making rounds. In this modern age, in which the vast majority of the population is highly influenced by Instagram bloggers / thought leaders and celebrities, to send you some better ideas for the coming year, follow some of the top fashion trends in Pakistan that you can certainly look forward to in 2020
Long Kurti
All those who hated shirts of short and medium length will no longer bother because you can get your shirts stitched in the perfect length this summer. Finally, shirts of long length are returning. As As slimming cigarette pants look best, you can also pair them with culottes or cigarette pants! In fact, thin, graceful gowns are trendy this season as well.
The Statement Dupatta
Dupattas is a perfect add-on to our pret luxury wear. It used to be an optional accessory for the dress only hanging on the side or around the neck but it has been a little different this season. What we have this season is heavy dupattas. Laces, ruffles, block designs, rilli, gotas and even more glitter on the dupattas to make your outfit utterly flawless. When you're in a plain dress or something fancy, a dupatta comment lifts the entire appearance!
Chikankari Straight Cut Shirts
You need to keep an eye on brands such as Sana Safinaz, Khaadi, Generations, Image and the rest for something relatively classic and timeless. In these days, long straight cut kurtas are pretty much in line with global fashion trends too. Since quite some time now, chikankari shirts have been trendy and you can pair them with bright dupattas to give a heavier look and fit straight pants to semi-formal events and gatherings.
Bell Bottoms:
These days, bell bottoms are really chic. Bell-bottoms fashion has returned to the world with unprecedented success. They can be held both loosely and formally. You should wear a peplum with embellished bell-bottom for formal functions. Pair a quirky top with simple bell trouser for relaxed workouts
Capes
Caped dresses bring beauty and elegance to your appearance, and look royal in performance. Nowadays, capes are very much in style, suits with casual tops, wedding dresses, sarees, skirts and even jumpsuits over. Some capes have been designed to wear over the top, and some ought to stick to the shirt's shoulders, making it appear appealing in both respects. The most critical thing is to pick the cloth that fits excellent fabrics. Chiffon is used in these garments, linen, crepe, etc. There are many ways you can fashion a cape that fits your clothes based on the type you're carrying.
Bell Sleeves
Bell Sleeves is another fashion phenomenon this year and how it's making a comeback. Most women with larger bulk tend to enjoy this classic 70's theme with long and short sleeves. It's one of the best and most basic retro looks you can find. Bell sleeves are like the form of a bell appropriate to either eastern or western wear. Such sleeves may be stitched with different flare variants. Bell Sleeves looks pretty good. You will find bell sleeves on it alongside jumpsuits to skirts, long shirts to tops.
Off-Shoulder Top
Our fashion industry is rising with the introduction of the latest trends in fashion. Fashion of Western fashion is following, and the off-shoulder dress style has become very popular in Pakistan today. Every girl enjoys wearing trendy dresses and looking beautiful. The off-shoulder style has persevered, and this spring season's already in demand. The production of these fashionable dresses is a great success for fashion industry in Pakistan. Off-shoulder is a rare and unusual trend in western countries, and most girls choose to wear these styles on party days or special events, and follow them. When you like to dress sophisticated and casual, consider clothes off the shoulder.